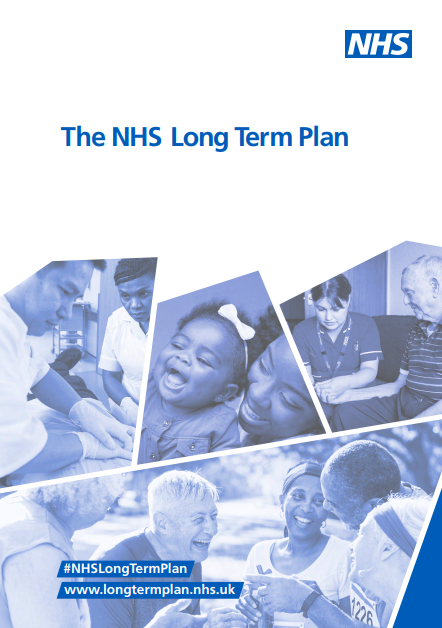 The Government published its long-term plan for the NHS this week. We've looked at what it means for mandatory, clinical and specialist training for the next decade:
Focus on mental health
There has been a huge emphasis on mental health in the media and in politics in recent times, and this has carried over into the NHS. Mental health training features on a number of occasions. There is a recognition in the plan that certain groups of young people are particularly vulnerable to mental health issues, and it says that teams will receive "information and training to help
them support young people more likely to face mental health issues – such as Lesbian, Gay, Bisexual, Transgender (LGBT+) individuals or children in care". The plan recognises that "preventative support" is important to help address problems before they have serious repercussions.
The plan also says that ambulance staff will receive training to help deal with people with mental health issues who are "in a crisis". Some trusts are already doing this, but growing awareness of the scale of mental health problems in the UK and the impact it has on 999 calls means that all ambulance staff will soon be able to help with issues.
Training to improve end of life care
One of the aims of the plan is to "personalise" and "improve" end of life care. This, it says, will mainly be accomplished by training to help staff identify patients' needs as they head into the final stages of their life. The plan hopes that this will reduce emergency admissions, but the majority of people will see this as a necessary part of a caring modern society.
There is little new about a wish to improve end of life training. Former guidance has included breaking down training into "bite-sized" sessions to build knowledge quickly, as well as role modelling good practice at every opportunity. It will be interesting to see how this new commitment bears out in practice, and whether it will mean mandatory, classroom-based courses for practitioners.
Learning disabilities and autism awareness
The plan states an intent to roll out training in awareness of learning disabilities and/or autism to NHS teams. The plan alludes to a consultation published in 2018, which says that the aim of the training is ultimately to help staff "support people with a learning disability, their families and carers; to ensure that perceptions of learning disability do not prevent a robust assessment of physical health, and that staff can make personalised, reasonable adjustments to care". The skills and competencies required for this awareness have already been outlined in the Learning Disabilities Core Skills Education and Training Framework.
If this roll-out follow the recommendations included in the consultation, it means that a further consultation on proposals will begin in March this year, as well as an audit on skills in the NHS workforce. The CQC will monitor the uptake of the training from its full introduction.
Dealing with violence
The long-term plan mentions that a programme has already been launched to train staff in how to handle violence. This may include positive behaviour support, de-escalation training, and breakaway techniques. Its inclusion in the plan emphasises that this is a growing problem and such training is here to stay.
Click here to see what courses Advantage Accreditation can support you to deliver.