The UK's adult social care sector continues to face staff shortages. In 2020/21, over 100,000 social care roles across the country were vacant (UK Parliament). The government has proposed a new Care Workforce Pathway to encourage workers to join the sector. The pathway also provides a framework for career progression for existing care staff.
The Care Workforce Pathway is part of the government's plans to put People at the Heart of Care. The pathway is one of the first initiatives to be introduced, with more to follow between April 2023 and April 2025.
Altogether, this new pathway aims to improve the quality of care by improving the skills of care workers. With opportunities for progression, the pathway will also increase motivation and job satisfaction, and encourage more workers to join the sector.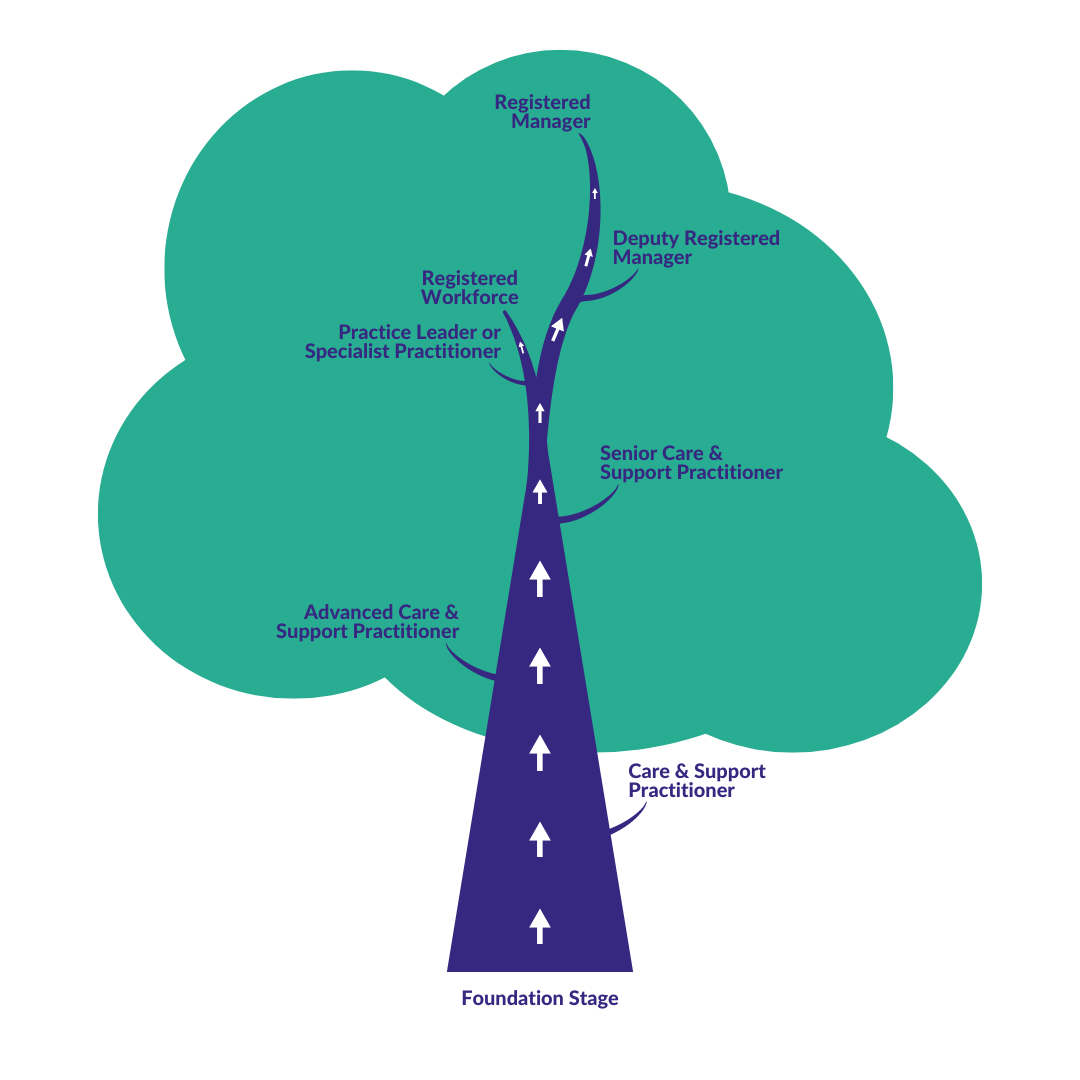 The roles outlined in the new pathway are:
Foundation Stage
Those in the Foundation Stage are not currently working within social care but may consider this a career option. They may be completing training or volunteering.
Care & Support Practitioner
Those in this stage are in their first 12 months of work within adult social care. This could include staff who have previous experience but have been out of practice for several years. Staff will complete the Care Certificate at this stage.
Advanced Care & Support Practitioner
After completing essential training, including the Care Certificate, staff move on to this stage. Advanced care and support practitioners are competent to provide person-centred care and support. They may choose to develop more specialist experience.
Senior Care & Support Practitioner
Those in this stage hold leadership roles within the adult social care sector.
The pathway then splits into two: Registered Workforce and Registered Manager.
Registered Workforce
Staff can develop into Practice Leaders or Specialist Practitioners if they have specialist skills and expertise in a specific area of care and support.
Registered Manager
Deputy Registered Managers and Registered Managers are skilled in business and people management.
Advantage Accreditation provides a broad range of Health and Social Care training courses that can help staff progress in their careers, including:
Level 2 Award in Role of the Care Worker and Personal Development
Level 2 Award in Equality, Diversity and Inclusion
Level 2 Award in Safeguarding Adults
Level 2 Award in Handling and Administration of Medications
If you would like to become an accredited training centre and deliver these courses for your staff, please contact Advantage Accreditation.