The Care Quality Commission (CQC) recently introduced a new approach to regulation. This is yet to impact all care providers, but will soon become the standard method of regulation and assessment. Advantage Accreditation has already provided a resource about these changes: New CQC Quality Statements. Read on to learn more about the CQC's new assessing services.
The goal of the new assessment framework is to allow more frequent assessments, often based on people's experiences of the care provider. The frequency of assessment will no longer depend on the care provider's CQC rating and service type, but on the information previously collected about the care provider.
Gathering Evidence
Evidence may be collected on site (e.g. observations) or off site (e.g. patient reported outcome measures, national clinical audits, etc.) based on the required evidence and type of service. As some evidence can be collected entirely off site, the CQC can update a care providers' rating without visiting in-person. Site visits will occur more frequently if there are concerns about risk, evidence received, etc. Advisors, such as Experts by Experience, may help the CQC decide what evidence to collect and how to analyse it.
Ratings
Care providers will receive Outstanding, Good, Requires Improvement, or Inadequate ratings for the key questions: Safe, Effective, Caring, Responsive, and Well-Led. Numerical scores will be provided to increase openness and clarity, and to show if a care provider's rating is close to moving up or down. Each evidence category will receive a score from 1 (significant shortfalls) to 4 (exceptional). Each score will then be combined to provide an overall score for each quality statement within each key question.
For example, if the CQC assess evidence from three different categories, the maximum potential overall score is 12. The actual scores may vary.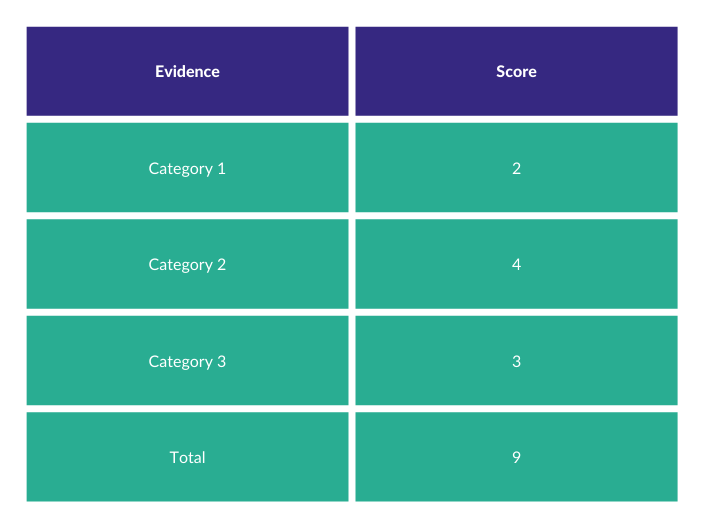 In this example, the care provider received a score of 9 out of 12, or 75%. The percentage is converted back into a score so that multiple quality statements can be combined into a score for each key question. In this case, 75% is converted into a score of 3. Each quality statement (QS) receives a score.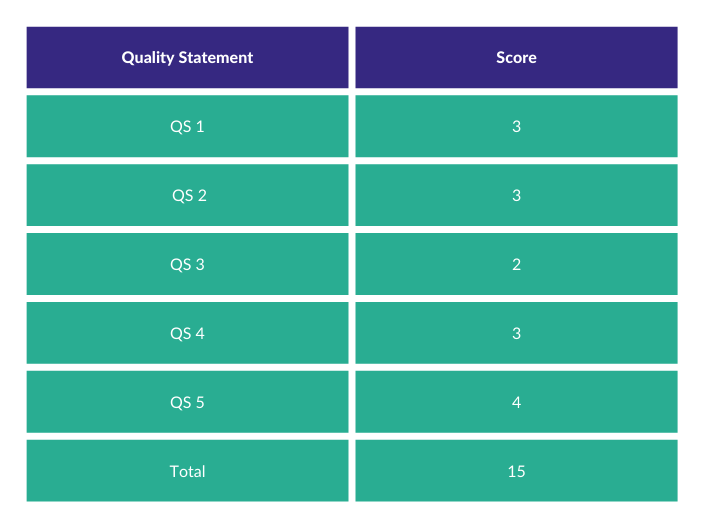 In this example, the care provider received a score of 15 out of 20, or 75%. The percentage is converted into a rating. In this case, 75% is converted into a rating of Good.
Planned and Responsive Activity
The CQC will plan to collect evidence, including first-hand accounts from people who have received care, policies, processes and procedures, and other evidence types. The frequency of assessment will depend on national priorities and levels of risk in different areas of the country. The CQC plans to assess every service at least once every two years.
In response to any reported concerns, including whistleblowing, safeguarding, feedback, etc, the CQC may collect evidence from the care provider.
We would be more than happy to provide answers to any questions you may have. Please get in touch with Advantage Accreditation. Further information about the CQC's assessing services is available on their website.